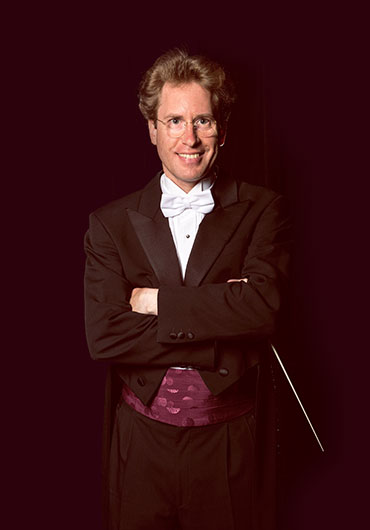 The artistry and musicianship of German-born conductor Jens Georg Bachmann has been praised by audiences, orchestras and the press on both sides of the Atlantic. His international career covers symphonic and opera productions in equal measure. Through his impressive artistic versatility, he has quickly become a sought-after international artist for orchestras, opera houses and educational institutions alike.
In 2021 Jens Georg Bachmann has been appointed Music Director and Chief Conductor of both, the German Winterstein-Theatre (opera) and the Erzgebirgische Philharmonie (concert) in the German Ore Mountains. Formerly Artistic Director and Chief Conductor of the Cyprus Symphony Orchestra, Bachmann was at the helm of the National Symphony Orchestra of the Republic of Cyprus. During his tenure from 2017-2020 Bachmann significantly increased the orchestra's audience attendance by over 40%, while broadening and differenciating the orchestra's reach and activities from national radio and TV broadcasts, to chamber concert appearances. In addition, Bachmann contributed widely to the music education sector of the island, including projects with the National Youth Symphony Orchestra.
Engagements over the past years have included subscription concerts leading the Boston Symphony Orchestra, the NDR Elbphilharmonie Orchester Hamburg, the Royal Stockholm Philharmonic and Gävle Symfoniorkester in Sweden, The NDR Radiophilharmonie Hannover, the ERT National Radio Symphony Orchestra of Greece, Hamburger Symphoniker, Berliner Symphoniker, the Konzerthausorchester in the Konzerthaus Berlin, The Florida Orchestra, the Fort Worth, New Haven and the Princeton Symphony Orchestras as well as the German State Orchestras of Stuttgart, Düsseldorf, Wuppertal and the Staatskapelle Halle.
Being equally at home in both symphonic and operatic repertoire, Bachmann has served as Conductor at The Metropolitan Opera, where he made his debut conducting "The Magic Flute" in a national live radio broadcast during the 2006-2007 season. Subsequently, Mr. Bachmann conducted "Lucia di Lammermoor" in his second national live radio broadcast at The MET and "Der Rosenkavalier" at the Metropolitan Opera. In addition, Mr. Bachmann accepted invitations to the Royal Swedish Opera for "Le Nozze di Figaro" as well as to the Stuttgart State Opera to conduct "Die Zauberflöte" and "Der Freischütz". Also, Bachmann has led productions of "Werther" and "L'Elisir d'Amore" at the Nürnberg State Opera. Furthermore, he led "La Vie Parisienne" at his Komische Oper Berlin debut in a live national broadcast and the late Richard Strauss' "Des Esels Schatten" at Berlin State Opera, amongst others.
Mr. Bachmann had been Music Director of the Crested Butte Music Festival in Colorado from 2009 – 2012, conducting a minimum of three symphony concerts each summer as well as vocal masterclasses for the festival's young artists program. In addition, he was instrumental in building the festival's Opera Children's Chorus, a contribution to involving children through their singing and acting in a summer festival's professional opera production.
Mr. Bachmann served for two years as Assistant Conductor to Christoph von Dohnányi at the NDR Sinfonieorchester (now NDR Elbphilharmonie Orchestra) Hamburg from 2007 – 2009 (a position especially created for him), conducting the orchestra in several concert series and radio recordings. Bachmann had been Assistant Conductor of the Boston Symphony Orchestra; a position he held from 2004 – 2007. Bachmann repeatedly conducted the Boston Symphony in subscription concerts in Symphony Hall and at the Tanglewood Festival, also replacing Music Director James Levine after a stage accident for remaining subscription concerts in March 2006 in Boston.
Bachmann's career started as assistant to James Levine at the Munich Philharmonic. While working in Germany, Mr. Bachmann also held positions as Associate Conductor of the Fort Worth Symphony Orchestra from 2001-2003, conducting over twenty concerts per season, including subscription, outreach, summer festival and theatre performances. He was appointed Principal Conductor with the Texas Chamber Orchestra in Dallas for the 2003-2004 season, leading the subscription series.
Mentors have played an important role in Mr. Bachmann's career. Former New York Philharmonic's Music Director Alan Gilbert invited Bachmann to appear with the Royal Stockholm Philharmonic Orchestra, Andrey Boreyko extended an invitation to the Hamburger Symphoniker four times, Manfred Honeck invited him to the Stuttgart Opera repeatedly, James Levine to the Munich Philharmonic, the Boston Symphony, the MET and the Verbier Festival, and Christoph von Dohnányi to the NDR Sinfonieorchester (NDR Elbphilharmonie Orchestra) Hamburg.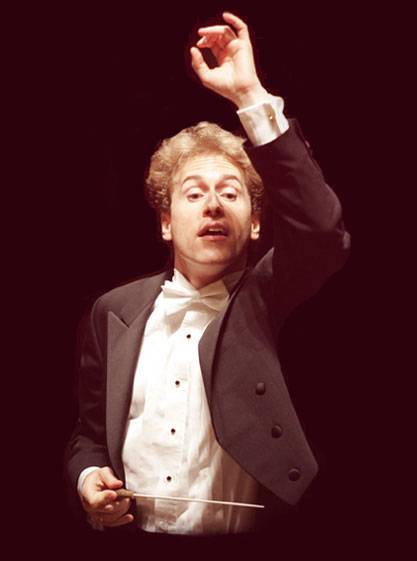 James Levine was one of the first major conductors to recognize Mr. Bachmann's passion for orchestra building, his broad musical capabilities within the genres and his keen ability to engage the musicians. This prompted Levine to ask Bachmann to serve at the Verbier Festival from 2002 – 2004 as Resident Conductor and Coach with the Verbier Festival Orchestra. Besides building the Verbier Festival Orchestra for James Levine and guest conductors such as Zubin Mehta, Kurt Masur, Valery Gergiev, Esa-Pekka Salonen, Neeme and Paavo Järvi, Bachmann conducted several concerts in Verbier and toured with the orchestra to the EXPO 02.
Other summer festivals, besides Verbier, include appearances with the Boston Symphony Orchestra at Tanglewood Festival, the Crested Butte Music Festvial, the OK Mozart International Festival in Bartlesville, Oklahoma, the Schleswig-Holstein Musik Festival as well as conducting opera performances at the annual Pafos Aphrodite Festival in Cyprus.
Mr. Bachmann has collaborated on stage with some of the world's finest musicians such as violinists Pinchas Zukerman and Daniel Hope, pianists Cyprien Katsaris, Marc-André Hamelin and Andreas Haefliger; among the singers are Renée Fleming, Susan Graham, Natalie Dessay, Christine Brewer, Marcello Giordani, Clifton Forbis, Matthew Polenzani, Jonas Kaufmann, Nathan Gunn, Mariusz Kwiecien and Albert Dohmen. In addition, Bachmann collaborated with the comedy duo Igudesman & Joo for their American orchestral premiere in the summer of 2011.
An avid proponent of contemporary music, Mr. Bachmann has worked with many active composers of our time including Elliott Carter, Krzysztof Penderecki, Sofia Gubaidulina, Charles Wourinen, Michael Gandolfi, Yehudi Wyner, Daniel Schnyder, Victoria Borisova-Ollas, Peter Michael Hamel, Ulrich Leyendecker, Elmar Lampson, Lars Graugaard and many others. As Artistic Director and Chief Conductor of the Cyprus Symphony Orchestra Mr. Bachmann regularly premieres and promotes works by Cypriot composers.
Since 2011 Bachmann also contributes continuously to academic education: Since 2015 he is a regular guest artist at the orchestral program of the State University of New York at Stony Brook. From 2011 – 2015 he was Resident Guest Artist with New York University's Steinhardt School of Music and Performing Arts to lead symphony concerts, coach and teach music seminars. In addition, Bachmann was invited for several years to the Manhattan School of Music to regularly lead orchestral workshops. Furthermore, Bachmann conducted the opening symphony concert of the annual Brahms-Festival of the Musikhochschule Lübeck, Germany and led music seminars in 2012.
Mr. Bachmann graduated from The Juilliard School in New York under the tutelage of Otto- Werner Mueller where he was awarded the Bruno Walter Memorial Scholarship, the German Rotary Club Award and the Intercities Performing Arts Foundation Grant of New York. While a conducting student Bachmann participated actively in masterclasses with some of the world's foremost conductors including Kurt Masur, Leonard Slatkin, Sir Colin Davis, Simone Young, Krzyztof Penderecki and James Levine. Prior to his studies at Juilliard, he attended the Hochschule für Musik "Hanns Eisler" Berlin as a conductor and violinist. He was awarded the Conducting Award at the Carl Maria von Weber Conducting Competition in Munich, 1996. Mr. Bachmann has recorded for DaCapo Records, as well as for the Naxos labels.